When you're thinking about trying out a new restaurant, there are a few things you might do first. Ask around for a recommendation? Definitely. Check the restaurant's Yelp or Google reviews? Likely.
But what about looking up the number of food service violations a restaurant has received? Probably not.
We compiled a list of 2016 food service violations from major cities across the U.S. and looked at the average number of violations per business, the food served, and the types of infractions that most often occurred. Curious to see how common rodent infestations are in New York City, or how your favorite restaurants handled cross-contamination in San Francisco? Keep reading to find out.
Dirty Dining in the Big Apple
Whether you were born and raised there or are just passing through, New York City has a love affair with food the same way locals do with Billy Joel or the Yankees. The two are inseparable, regardless of where in the Big Apple you happen to be.
While iconic restaurants and dishes have earned a place in the heart and history of New York City, food service violations might be nearly as common as $1 pizza slice joints or bagel shops on each street corner. Brooklyn may be NYC's up-and-coming "hipster" habitat, but businesses in Brooklyn had the highest rate of food service infractions: more than four violations per business. While some areas of Brooklyn had significantly fewer violations, businesses in some neighborhoods had more than five violations each.
Manhattan wasn't too far behind Brooklyn. The city also reported more than four food service violations per business, followed by eateries in Staten Island and the Bronx. Only businesses in Queens managed to report less than four total violations per business.
Common Food Service Violations in NYC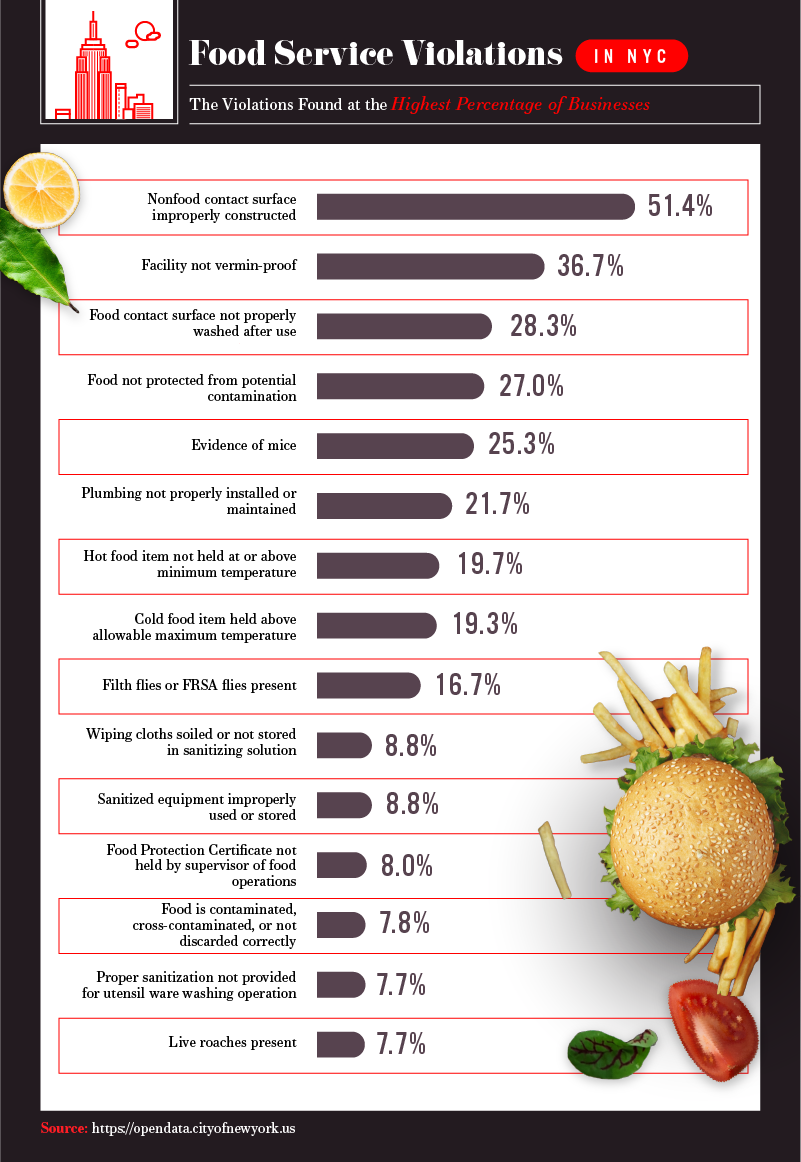 Across New York City, more than half of businesses in all five boroughs received a violation in 2016 for having an improperly constructed surface that didn't come in contact with food. These are considered noncritical infractions by the city's sanitary inspection and can still result in an overall grade of "A" for the business.
As far more critical for potential diners, more than a third of businesses in the Big Apple received violations for operating facilities that weren't vermin-proof. Rats aren't uncommon around New York City and have been known to carry diseases, making them a primary concern for anyone looking to find a good meal in the city.
More than 1 in 4 businesses also received violations for food surfaces not being properly cleaned, food not being protected from contamination, and there being evidence of mice.
NYC Businesses With the Most Infractions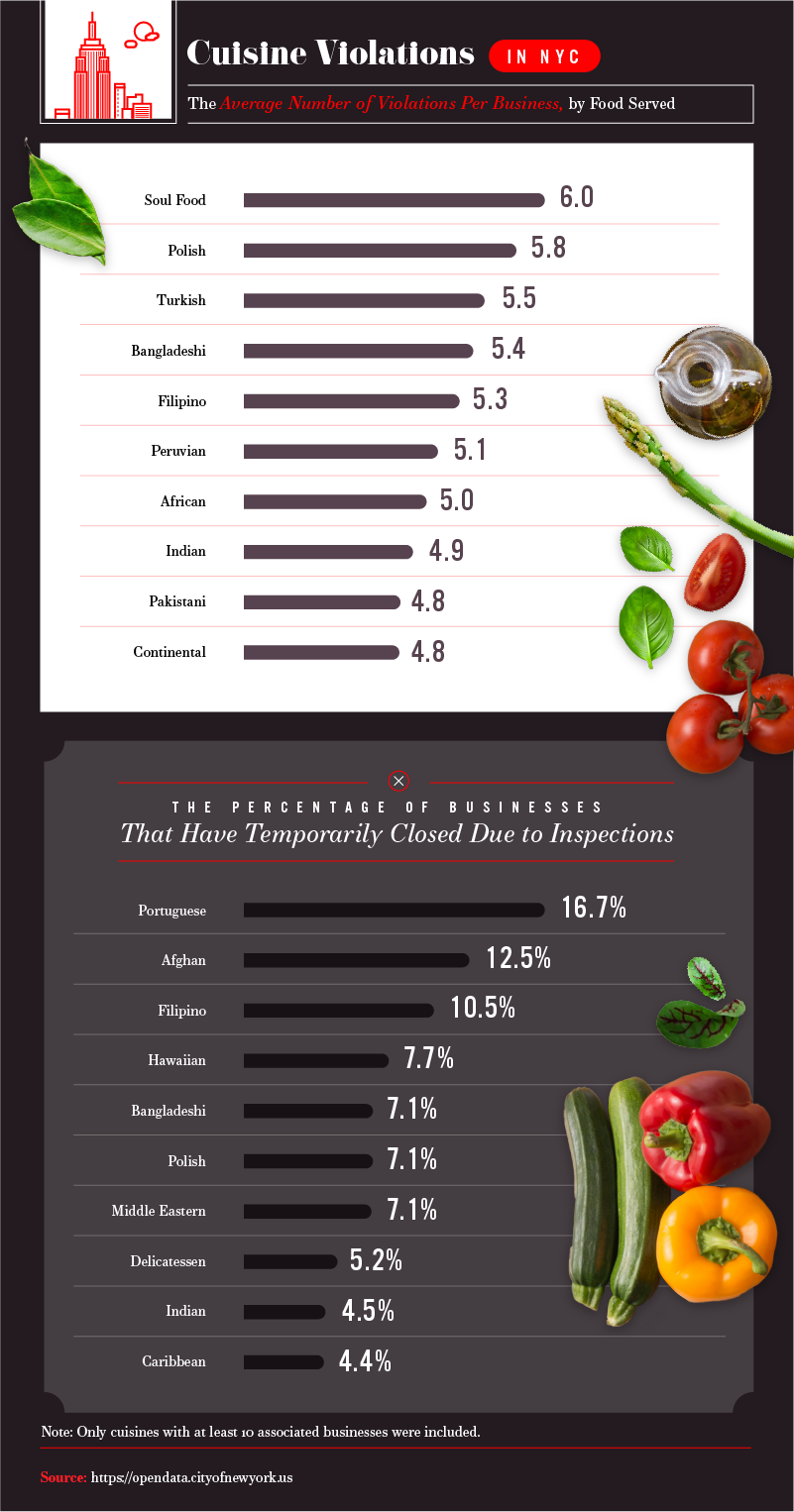 New York City is as much a melting pot for cuisine as the people who live and travel there. Still, for whatever reason, businesses serving certain foods were more likely to receive these violations or temporarily close after inspections.
From chicken and waffles to quintessential sides like mac and cheese and cornbread, soul food is the ultimate comfort food. In New York City, businesses serving soul food also averaged the highest number of violations, earning six infractions each. And Polish, Turkish, Bangladeshi, Filipino, and Peruvian businesses averaged more than five food service violations each.
Businesses that served Portuguese food were the most likely to close due to inspections temporarily. Nearly 17 percent of Portuguese businesses closed in 2016 due to public health hazards, which force the health department to shut down a business following an inspection. More than 1 in 10 Afghan and Filipino businesses were also closed due to inspections and health code violations.
Dirty Dining in Boston
Boston may be known as Beantown, but baked or refried legumes aren't the only city staples. The city of successful sports franchises and tipping points of American history is also home to clam chowder, Maine lobster rolls, and Boston cream pie.
Despite so many iconic dishes available, there are a few spots worth noting when it comes to food service violations, such as businesses in the Roxbury Crossing area. There was an average of nearly 11 infractions per business. This was the most of any ZIP code in the birth city of the revolutionary Samuel Adams, both the person and beer company.
Roxbury Crossing was one of three ZIP codes – including Dorchester (02122) and Dorchester Center (02124) – where there were over 10 infractions per business.
Common Food Service Violations in Boston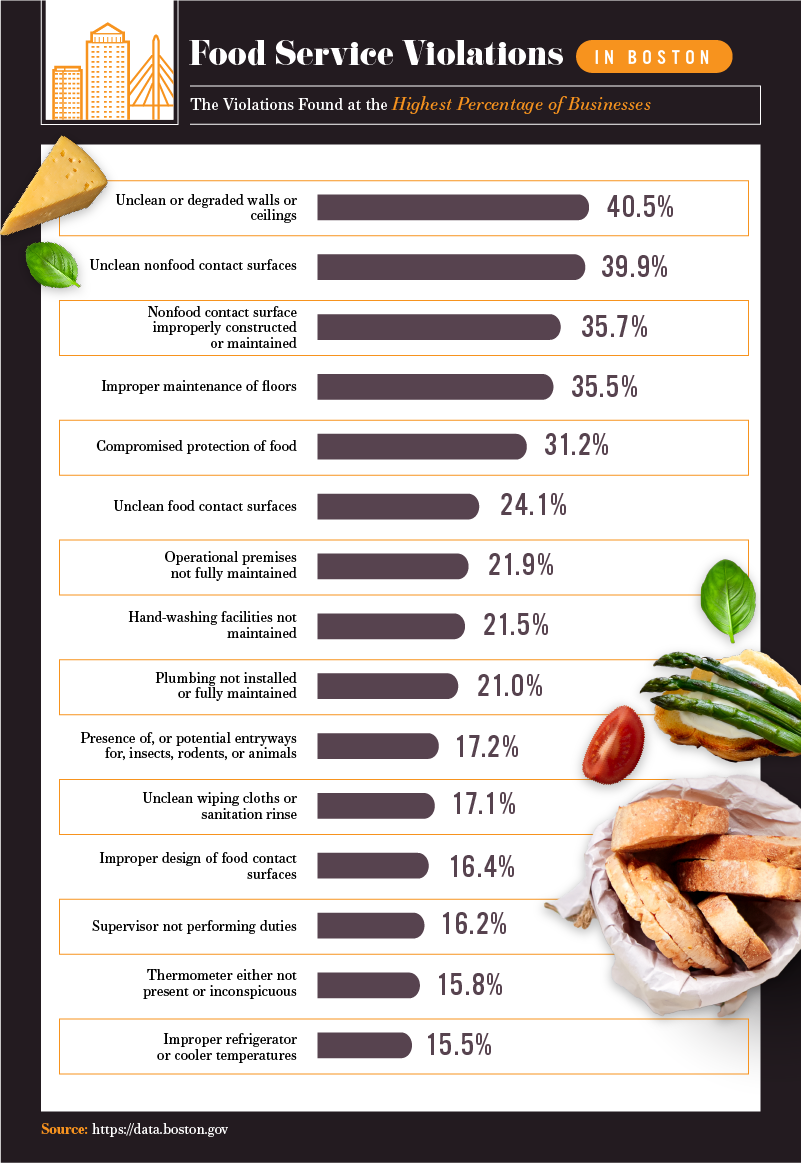 Of 2,446 food service establishments we examined in Boston, more than 40 percent received violations for improper maintenance of walls and ceilings in 2016. These infractions are identified by the city as noncritical and won't contribute to the overall health quality of a business's food.
More than a third of businesses in Boston received similar noncritical violations for the cleanliness and construction of nonfood contact surfaces, as well as the maintenance of their floors.
However, nearly 1 in 4 received a critical violation for having unclean surfaces that came in contact with food, and over 17 percent were reported as having insects, rodents, or other animals. In 2016, one food service business received seven Level 3 violations, including one for having live birds.
Dirty Dining in Chicago
Chicago ranks as one of America's top food destinations, and its reputation for having some of the most delicious, decadent pizza anywhere on the planet is nearly unparalleled. That isn't the only list Chicago's food service businesses show up on, though.
In one area of Chi-Town, businesses received more than 10 food service violations each. The West Ridge neighborhood (60645) had more than 10 violations per business in 2016, and surrounding areas like Lincoln Park (60614), Harwood Heights (60656), Rogers Park (60626), and West Garfield Park (60624) had more than eight.
Not all were considered noncritical violations, either. In the Southeast neighborhood of Riverdale (60827), more than a third of businesses failed food service inspections over the year.
Chicago Businesses With the Most Infractions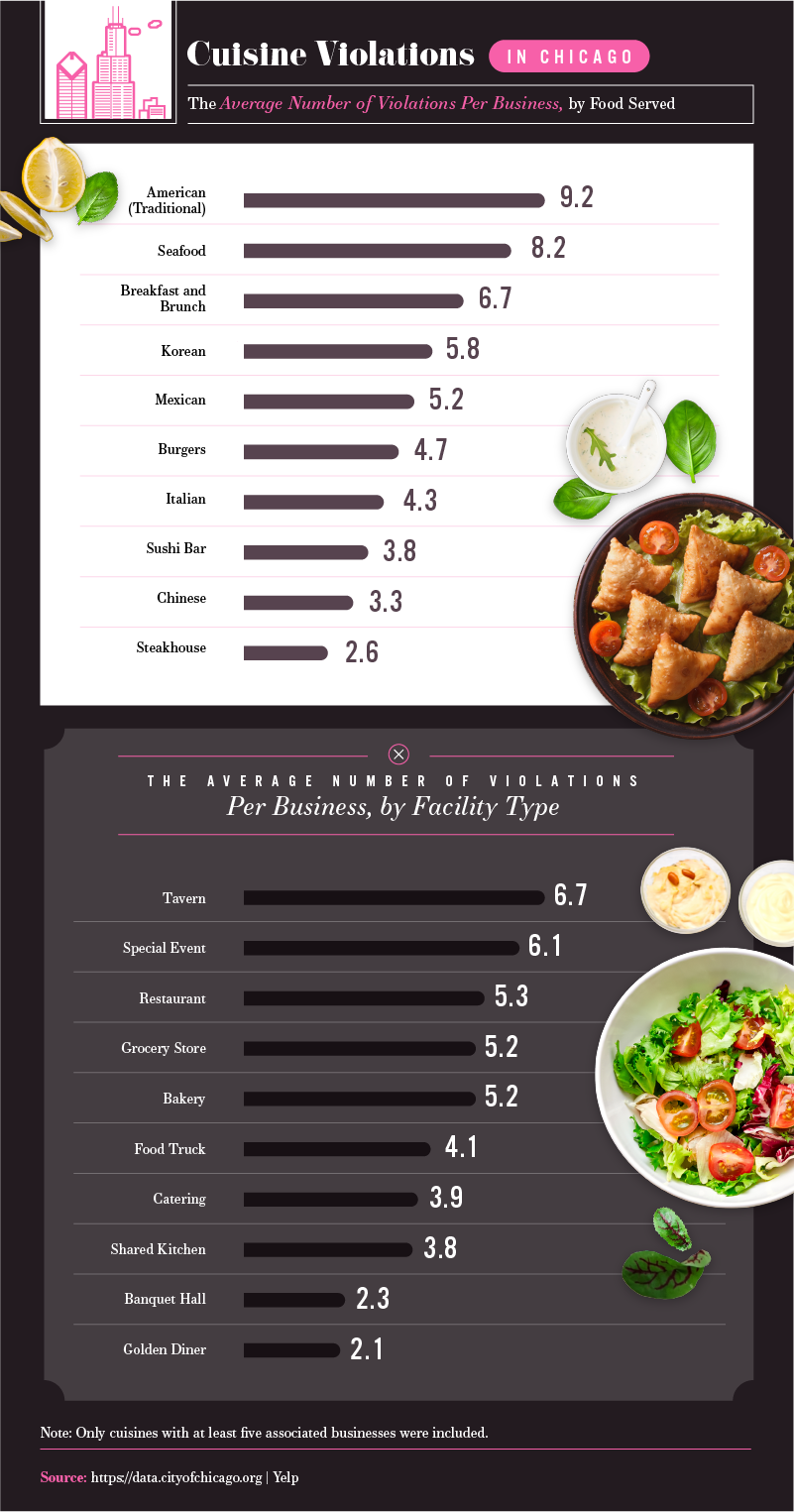 American cuisine had the most food service violations, averaging more than nine infractions each.
Like the Angry Crab in West Rogers Park, where lines around the corner didn't keep it from closing its doors after failing an inspection, businesses that served seafood averaged over eight infractions each. Breakfast and brunch places, Korean cuisine, and Mexican spots also ranked for food service violations, with an average of more than five each in 2016.
Taverns had the most violations, with nearly seven infractions each, on average, followed by special event locations (6.1) and restaurants (5.3).
Dirty Dining in San Francisco
San Francisco may be one of the most expensive cities to live in right now, but it's also one of the most delicious destinations in the country.
In Mission Bay, food service businesses had the fewest infractions, averaging less than one per business. Similarly, businesses along the waterfront in Hunters Point (94124), Dogpatch (94107), and the Financial District South (94105) had less than two violations each on average.
On the other side of the city, businesses in Diamond Heights (94131) had an average of nearly six food service infractions each.
Businesses in Hunters Point and Dogpatch also scored an average of more than 91 points each after their inspections, along with locations in Castro (94114). Any inspection scoring a 90 or higher is considered "good" by the San Francisco Department of Public Health.
Common Food Service Violations in San Francisco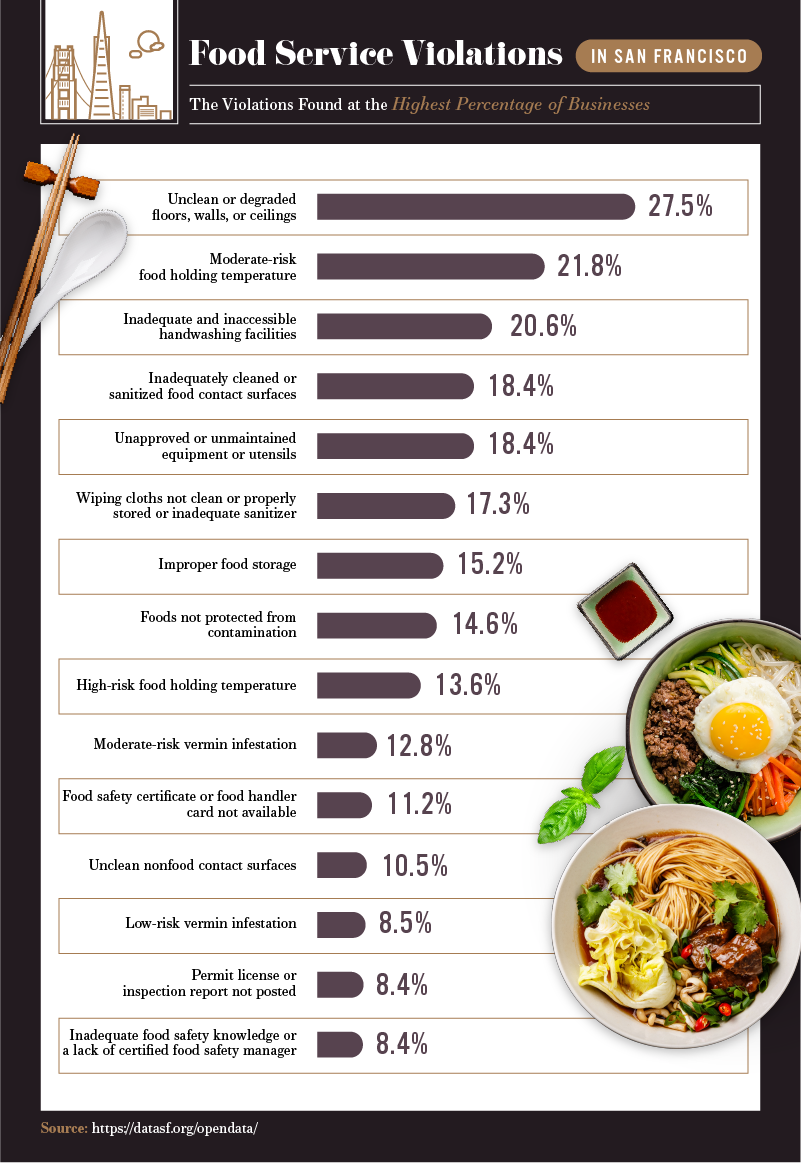 More than 1 in 4 businesses in San Francisco had violations in 2016 for minor infractions like unclean floors, walls, or ceilings.
However, over 1 in 5 had major violations including a moderate risk for food holding temperatures, as well as inadequate or inaccessible hand-washing facilities. More than 1 in 10 San Francisco businesses were also reported for a moderate-risk vermin infestation, along with high-risk food holding temperatures and foods not being protected from contamination.
In 2016, some restaurants failed health inspections for vermin infestation.
San Francisco Businesses With the Most Infractions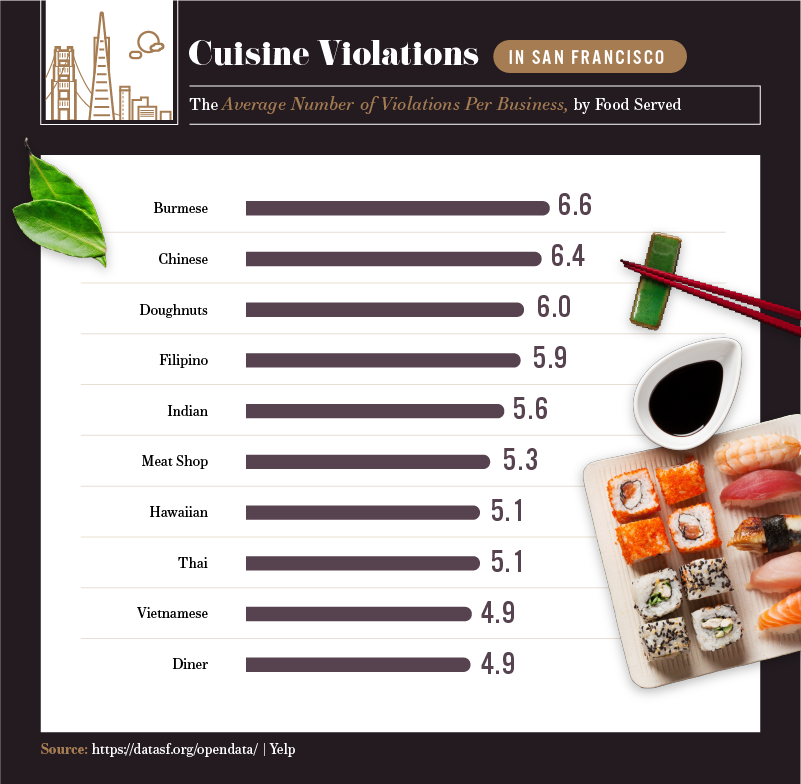 San Francisco businesses that served Burmese cuisine had the highest average number of food service violations each (6.5). Doughnut shops and Chinese restaurants also had six or more violations, on average, after their inspections.
Places that served Filipino, Indian, and Hawaiian food, as well as meat shops, averaged more than five violations each in 2016.
Dirty Dining in Seattle
One of the most northern Seattle neighborhoods, Victory Heights (98125) had the highest average number of food service violations. In fact, it was the only area where businesses average five violations or infractions each.
However, neighborhoods like Loyal Heights (98117), Adams (98107), and Seaview (98136) had less than one violation per business inspected.
Common Food Service Violations in Seattle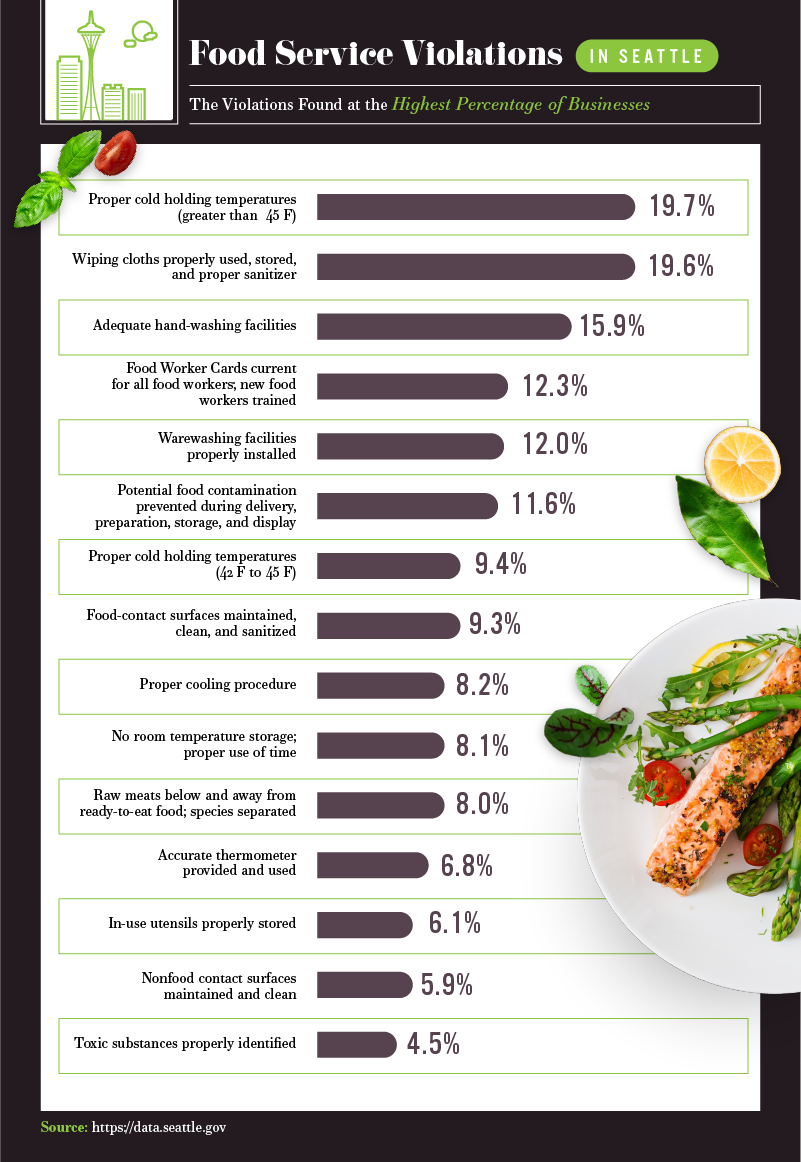 The most common problems businesses in Seattle experienced were related to proper cold holding temperatures and wiping cloths being properly used, stored, and sanitized (over 39 percent). This puts businesses in a position to evaluate how they handle items such as meat or frozen products to ensure there are no issues with contamination.
Issues that presented the least amount of issues were toxic substances (4.5 percent) and nonfood contact surfaces being maintained and cleaned appropriately (nearly 6 percent).
Seattle Businesses With the Most Infractions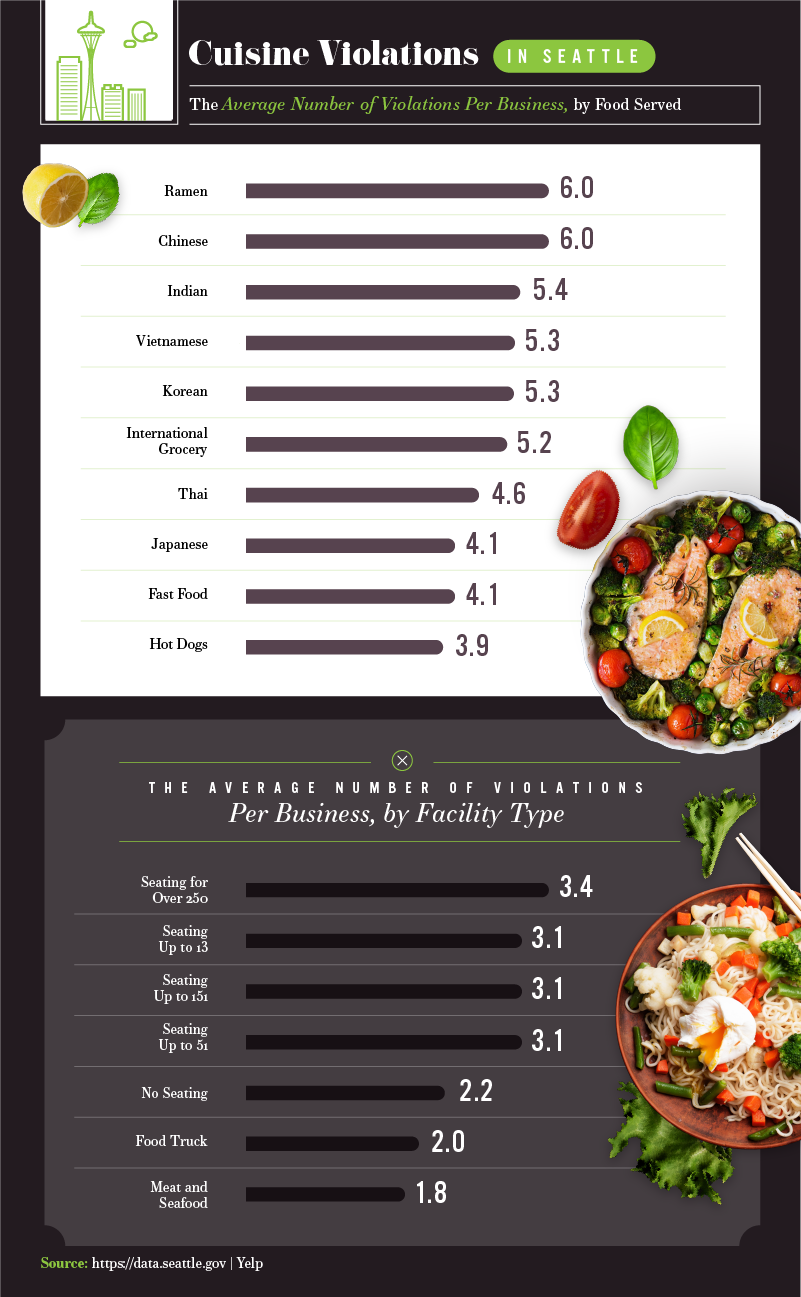 Though Seattle is home to many tasty Chinese restaurants, like Little Ting's Dumplings, and ramen shops, such as Arashi Ramen and Tsukushinbo, these were the two cuisines most often found at businesses at fault for violations – six food service violations each, on average.
The fewest number of infractions were at hot dog, fast food, and Japanese establishments. The Golden Arches and similar places had fewer infractions than the city's ramen spots, averaging just over four violations each.
The city's largest establishments struggled the most with limiting the number of infractions documented by inspectors. Businesses with seating for over 250 people had an average of 3.4 documented incidents. The fewest violations were uncovered at meat and seafood establishments, which should be good news for fans of the city's famous Pike Place Market.
Conclusion
Whether you're a tourist planning your next big getaway or a local who likes to explore new dining options, each of these major U.S. cities is known for having some of the best food. While some of these businesses have won national awards, others, unfortunately, have had a significant number of health and safety violations or closed due to failed inspections.
At ConsumerProtect.com, we believe in protecting consumers from unfair and sometimes unsafe business practices, products, and technologies. By helping to conduct investigations into companies we know violate state and federal laws, we protect consumers from environmental issues, crime, fraud, and even product liability. For more reports like this one, visit us online today at ConsumerProtect.com.
Methodology
We pulled business inspection results from New York City, Boston, Chicago, San Francisco, and Seattle. Due to the differences in their reporting and data structure, the data is not necessarily comparable. We analyzed each city on its own to provide insight into the violations within the food industry.
New York City is the only city to provide cuisine type data. The rest of the cuisine types were pulled by matching inspection data against Yelp data and pulling the first matching cuisine type. Boston was excluded from this due to the number of matching restaurants being below the necessary threshold for analysis.
The Chicago data was formatted in a way that made it difficult to pull violations. Due to the amount of room for error, we chose not to include this information in our analysis.
Sources
Fair Use Statement
We all eat, and sometimes we like to eat out. Feel free to share the findings of our research on your website for any noncommercial purposes, but please link back to this page so our contributors earn credit for their work.
More About Us