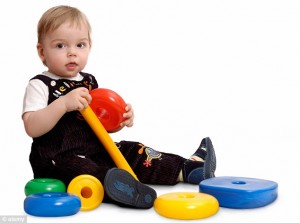 The US Consumer Product Safety Commision issues as many as 450 product recalls annually. However, this represents just a few of the dangerous products on the market. Many of these products may be perfectly fine for adults and most circumstances. However, in the hands of children, they can be harmful. Some of the most harmful products to children are:
#1 CHILDREN'S METAL JEWELRY
This type of jewelry is safer than years ago, but some old jewelry from decades ago could still contain deadly lead or cadmium. The CPSC recalled 180 million pieces of children's metal jewelry from 2004-9.
#2 DROP SIDE CRIBS
The CPSC banned these cribs for five years, but some of them still are sold second hand or at flea markets. Actually, cribs made in the US today are very safe, but drop side cribs have been recalled many times due to dangers of the child falling out or being pinched by the crib.
#3 TRAMPOLINES
Trampolines have caused so many injuries that the US government has strongly warned against using trampolines at home. Most people are hurt when more than one child is jumping on the device at a time. Typical injuries are dislocated joints and fractures.
#4 MAGNETS
The CPSC is trying to ban magnet sets that have led to serious injuries when children swallow more than one magnet at a time. The magnets may pull together inside the body, which can cause blockages in the intestines. Many companies have agreed to stop selling magnet sets. But some companies still sell them and the CPSC has filed suit against them.
#5 BABY SLINGS
Slings are a helpful way to carry your newborn, but you should be sure to use them properly. Be sure that the airway of you baby is not blocked at any time, or she could suffocate. The baby's face should be both visible and kissable.
#6 HIGH CHAIRS
Babies that are not secured in a high chair can wiggle and fall out of them. This is the reason that you should always buy a high chair that has a five point harness to ensure the child cannot get out on his own.
#7 TUBE TVS
Old tube TVs can be really dangerous because they are heavy and can easily fall over and crush a small child beneath. Old tube TVs with 36 inch screens often weigh more than one hundred pounds.
#8 BASSINETS
You would think that a bassinet is the safest place for a baby to be, and generally this is true. But recent product recalls have seen some bassinets that can trap and suffocate the baby. Or the baby can easily fall out of them.
#9 DRESSERS
Children like to climb on dressers, which tend to be tall, with a high center of gravity, and heavy. It is easy for a child to tip one over onto himself, leading to serious injuries or even death.
#10 STROLLERS
Several brands of strollers in the US have been recalled in the last decade due to fingers being pinched, failure to lock properly in place, and for suffocating children. Babies should not be left alone in a stroller, even if they are asleep.