Multiple personal injury proton pump inhibitor lawsuits have been filed across the US in recent months, alleged kidney damage, kidney complications and even kidney failure associated with the use of the best-selling heartburn and acid reflux drug Nexium.
Nexium (esomeprazole) has been on the market since 2001, and millions of patients have taken it for their digestive disorders. Patients were prepared to deal with minor side effects such as headache or dry mouth, but kidney problems were completely unexpected.
This was because Nexium packaging and warning labels never stated that there was significant risk of kidney damage associated with long term use of the drug.
Clinical Studies Suggest Kidney Damage Link w/Nexium
A new clinical study suggests that there is a 20-50% increase risk of kidney damage and even kidney failure associated with the regular use of the heartburn drug Nexium, which was the number one selling drug in the US in 2012.
According to the study published recently by the Journal of the American Medical Association (JAMA), commonly used heartburn medications such as Nexium, which are called proton pump inhibitors (PPIs), are linked to increased risks of kidney complications. These drugs are commonly used to treat heartburn, indigestion and acid reflux.
Nexium Study Details Risks
Specifically, the February 2016 issue of JAMA stated that 10,000 patients who took proton pump inhibitors, including Nexium, Prilosec and Prevacid, were followed for more than 13 years.
The researchers compared people who were using the drug once per day with people who used them twice per day. They found that using the drug twice per day was associated with a 46% increase in risk for chronic kidney disease. Those who took only one dose had only a 15% increase in risk.
The study also found that the longer the drugs were used, the higher the risk of chronic kidney disease and other complications.
Researchers believe that PPIs cause levels of magnesium to drop in users, which can lead to kidney damage. Experts also believe that kidney function is reduced because of repeated acute kidney inflammation.
PPIs were used by more than 15 million Americans as of 2013, according to CBS News.
Many personal injury lawsuits have been filed against Astrazeneca, the manufacturer of Nexium. Many more are expected in the near future.
Nexium Warnings
Researchers have found that as many as 70% of patients could have been given Nexium prescriptions without a clear medical reason for it. Many patients may have continued to be on those drugs under the direction of their doctor, even though their condition could have changed.
Also, note that Nexium is now available over the counter drug, and many patients may be taking the drug without consulting a doctor. This could be leading to many more patients being exposed to chronic kidney damage and complications.
The worries over kidney disease and kidney damage is not the only serious safety issue associated with Nexium. In a June 2015 PLOS One journal article, it was shown that PPIs could boost the risk of heart attack by 16-21%, even if the patient did not have a history of heart problems.
People who have developed chronic kidney diseases or have had acute kidney injury who take Nexium could be eligible for financial compensation by filing a Nexium lawsuit. There also is the possibility of a Nexium class action lawsuit being filed in the future.
Symptoms of Chronic Kidney Disease
Chronic kidney disease can leave the kidneys unable to filter toxins and metabolic products from the blood. This can lead to very serious health complications. If you are experiencing several of the symptoms below and you are taking Nexium, you should consult with your doctor immediately:
Fatigue over several weeks or months
Abnormal levels of blood electrolytes
Hypertension
Fluid retention and/or edema
Fluid in the lungs
Heart arrhythmia
Nausea and vomiting
Poor appetite
Poor urine production
Note: Chronic kidney failure is a permanent condition and could require you to undergo dialysis, or eventually, undergo a kidney transplant. If you experience any signs of kidney failure, you should see your doctor immediately.
Nexium Lawsuits in the News
With all of the new, alarming information about Nexium and kidney problems, many pharmaceutical personal injury lawsuits have been filed.
For instance, a Nexium patient with chronic kidney disease who had to have a kidney transplant filed the very first federal kidney disease case against Astrazeneca in 2016. The suit alleged that the company received kidney damage complaints as early as 2004, and still marketed the drug without providing written warnings. This case is still pending.
Nexium Warning Video
The below video from NBC News provides more details about the JAMA Nexium study that links it with possible kidney damage:
Filing a Nexium Lawsuit
Many Nexium lawsuits have been filed against Astrazeneca to date. There have been no class action Nexium suits yet, but one could occur in the near future.
If you have experienced chronic kidney problems or chronic kidney failure after you have taken Nexium, you should speak to a personal injury attorney who is skilled in these types of lawsuits.
You could be eligible for financial compensation for your medical costs, lost wages, and pain and suffering. If you have lost a loved one due to kidney failure or related health complications from taking Nexium, you could file a wrongful death lawsuit and receive substantial compensation.
Please contact us today for a complimentary consultation regarding your possible Nexium lawsuit.
More About Nexium
The generic form of Nexium is esomeprazole, and it was released in the United States in May of 2014. Nexium is a product of AstraZeneca, a biopharmaceutical company which has operations in over 100 countries. The patent for Nexium expired in May of 2014.
Nexium is indicated by the FDA for use in treating gastroesophageal reflux, which is condition that causes the stomach to create too much stomach acid, resulting in heartburn and possible injury of the esophagus. Nexium is taken once or twice a day, an hour before a meal.
According to Drugs.com, Nexium generated the following amounts in sales in previous years:
| | |
| --- | --- |
| Year | Sales |
| 2005 | $3,436,794 |
| 2006 | $4,060,286 |
| 2007 | $4,355,901 |
| 2008 | $4,794,450 |
| 2009 | $5,014,827 |
| 2010 | $5,276,153 |
| 2011 | $5,963,917 |
| 2012 | $5,638,773 |
These sales put Nexium among the top three selling medications in previous years:
| | |
| --- | --- |
| Year | Position |
| 2005 | No. 2 |
| 2006 | No. 2 |
| 2007 | No.2 |
| 2008 | No. 2 |
| 2009 | No. 2 |
| 2010 | No. 1 |
| 2011 | No. 3 |
| 2012 | No. 1 |
Nexium Side Effects
The most common side effects associated with use of Nexium include constipation, dry mouth, nausea, gas, and headache.
The following side effects are less common, and individuals experiencing these side effects should seek medical attention:
high fever and chills
hives, rash, blisters and peeling skin
swelling
stomach pain and excessive diarrhea
dizziness, lightheadedness and abnormal fatigue
muscle spasm, shaking uncontrollably and seizures
irregular heartbeat
trouble breathing or swallowing
Nexium Also Increases Risk of Heart Attack
In a study performed by the Stanford Center for Biomedical Informatics, researchers found an increased likelihood that individuals taking proton pump inhibitors would suffer from a myocardial infarction, which is the medical term for a heart attack.
An estimated 113 million proton pump inhibitor prescriptions are filled around the world each year. Some proton pump inhibitor medications are also available over the counter, which is cause for concern since they can be used without the oversight of a doctor.
About the research method used for the study
Researchers searched through nearly 16 million electronic clinical documents to find data on 2.9 million individuals. Two different databases were used to collect information on individuals treated for GERD between the years 1994 and 2012.
The method researchers used is called data-mining, which is searching and analyzing data stored in databases to create new information. It is important to understand that data-mining is very different from performing an epidemiological study.
In an epidemiological study, the results may be able to determine cause due to the ability to control or take into account different variable affecting the study. Data-mining researcher, however, is only able to find a correlation between two sets of data. Meaning, through data-mining, researchers were able to see that proton pump inhibitor prescriptions were positively correlated with myocardial infarction incidents, but researchers did not have the necessary information to prescribe PPIs as the cause of these heart attacks.
About the population of individuals studied
The results of this study were taken from a population of individuals with GERD who were at least 18 years of age. The studied population was divided into two groups, those treated with proton pump inhibitors and those who were treated with H2-blockers. H2-blockers are a common medication used to treat ulcers and heartburn.
Within the group of individuals studied, 45.9% were taking a minimum of one type of proton pump inhibitor, and the percent of the population taking each individual medications is as follows: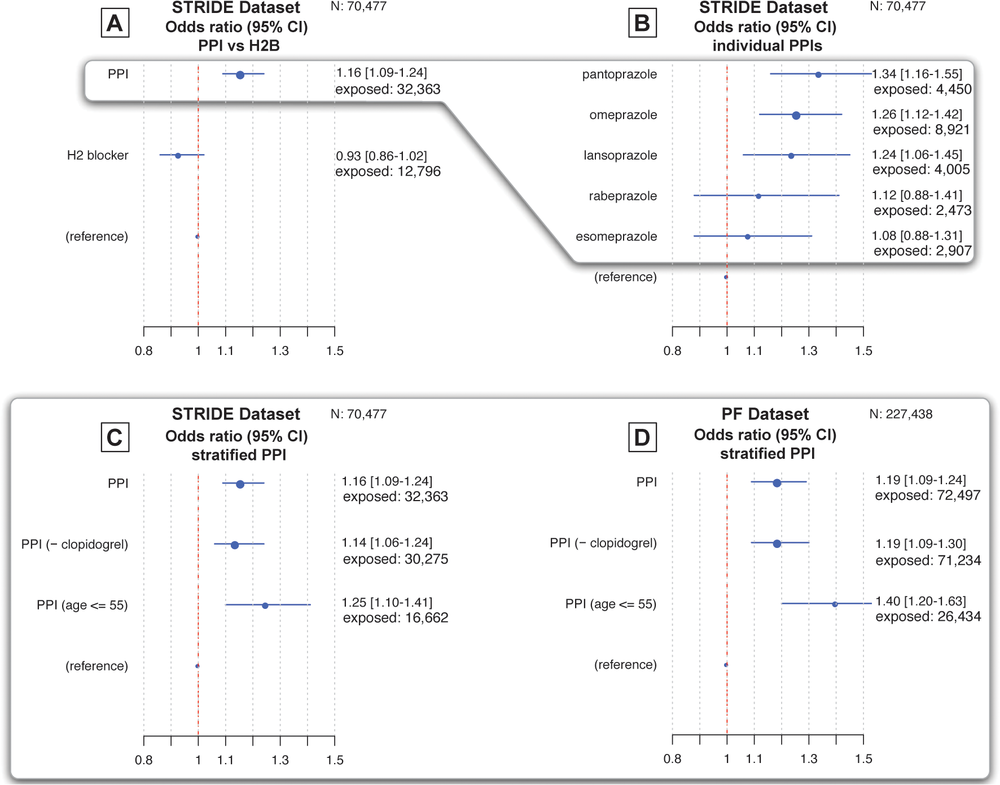 7% of studied individuals were prescribed omeprazole
7% of studied individuals were prescribed lansoprazole
3% of studied individuals were prescribed pantoprazole
1% of studied individuals were prescribed esomeprazole
5% of studied individuals were prescribed rabeprazole
.01% of studied individuals were prescribed dexlansoprazole
The group of individuals prescribed an H2-blocker accounted for 18% of the entire population studied. Additionally, 6% of the population was prescribed clopidogrel, a blood thinner indicated for use for prevention of stroke, heart attack, and other heart conditions.
Previous research has suggested that using PPIs while taking clopidogrel reduces the effectiveness of clopidogrel. In order to get a clear look at the role PPIs have in an increasing the risk of a heart attack, results created excluded individuals taking clopidogrel from the study.
Results of the Nexium Study
The results of this study found that the use of prescription proton pump inhibitors, such as Nexium, is associated with an increased risk of a myocardial infarction. In individuals taking these drugs, the risk of heart is increased by 16 to 21 percent. In comparison, there was no association between the use of H2-blockers and an increased risk of heart attack.
Further, the result of this study were achieved independently of known age-related risks for heart attack and the use of clopidogrel. The researchers made it very clear that they obtained the results of this study without the influence of the added risk associated with elderly patients or patients with acute coronary syndrome.
According to the Mayo Clinic, acute coronary syndrome is a condition in which the blood flow to the heart is suddenly reduced, and this condition may increase the risk for heart attack in patients.
The research results did not vary based on age, and appear to apply to the general population. While the exact cause of the increased risk of a heart attack are unclear, additional research suggests these drugs may be causing an increase in ADMA levels in the plasma, which is known to increase risk of cardiovascular problems.
Researchers performing this study acknowledge that there may have been competing, risks which influenced the results of this study. Additionally, they expressed that some individuals in their population were already at a greater risk for myocardial infarction.
Still, the researchers who carried out this study believe there to be reason to be concerned about the effects of proton pump inhibitors on the general population. In addition to cautioning consumers about the appearance of risks factors, researcher strongly urge that additional research should be performed in order to get a better picture of these risks.
Other Risk Factors Associated with Nexium
Previous research has found there may be other risk factors associated with use of Nexium and other proton pump inhibitors. In the past, the FDA has warned of the interaction of proton pump inhibitors with blood thinners such as clopidogrel, stating that taking PPIs reduces the effectiveness of this drug which is intended to protect from stroke, heart attack, and other heart conditions.
In 2011, there was pressure on the FDA by an advocacy group to place a black box warning on PPIs. This group stated that these drugs cause an increase in stomach acid production, and users reflux becomes worse if they discontinue the medication.
Get Nexium Lawsuit Help
Use the legal system to obtain fair Nexium lawsuit payouts & settlements for your damage claims and to obtain the justice you deserve. Consult us now to determine if you are eligible to either join an existing class action lawsuit or file an individual lawsuit for damages due to use of Nexium. You should not suffer physical harm, financial stress or other damage due to the negligent behavior of another person or company. We can Help!